By LEN EDGERLY, Contributing Editor
How many Kindles would you take on an eight-month solo sail around the world?
Eric Loss thought two would be enough, and he brought a couple of plastic covers to protect them when he departed Los Angeles on November 7th of last year aboard his 35-year-old, 37-foot yacht, Odyssey.
He returned, safe and sound, on July 22nd, and I spoke with him this week by Skype about his adventures in sailing—and reading.
The scariest moments came in the middle of the Indian Ocean a thousand miles before Australia, when a wave hit Odyssey sideways with enough force to knock the boat on its side, with the mast about two feet under water.
Eric was below deck, putting on his foul-weather gear as the autopilot did its job in the storm. When he saw the huge wave coming, he dove to the low end of the cabin to avoid being thrown there when the boat turned sideways. He heard the snap of something breaking.
"I was sure the boat was going to come back up and was not going to have a mast and I didn't know what I was going to have to do," he recalled. "When I looked out and saw the mast was still there, it was the best day of my life."
It turned out that he had heard a wooden railing snapping, not the mast, and Odyssey was able to continue the journey unscathed.
As dramatic as that episode was, it wasn't the one that took down either of the Kindles. And luckily for Eric, who at 26 years old is a voracious and eclectic reader, the demise of his Kindle Keyboards did not take place until he was much closer to the end of his trip.
"The first one, I'm not really sure what happened to it," he said. "I was reading right before I went to bed. I turned if off and put it next to my bed. I must have somehow hit the screen when I was falling asleep."
When he woke up, half the screen was messed up, so he had to flip the orientation of the Kindle twice in order to read a single page, which got tiring. It was enough to prompt him to break out the backup Kindle, loaded with the same books as the first.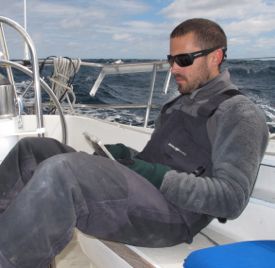 Four days later, the second Kindle took a direct hit from Eric's satellite phone, which he had tossed into the cabin from the deck instead of walking it down and putting it away.
By this late in the trip, he had read most of the books on the Kindles, so the loss of them was not so tough. Plus, he had become acclimatized to being alone on the endless expanse of ocean, which led to less time reading.
"I spent a lot more time, when the weather was nice, out on deck enjoying being outside, which was actually kind of a nice change, especially once the weather started warming up," he said.
By this time, though, Eric had read a lot of books. He emailed me a list of books he'd read on Kindle and paper—since he did bring some paperbacks in case the Kindles broke—and I count at least 150 titles. Some of them he read twice.
The book that will probably stay with him the longest as a memory of his journey is one he read before he decided to undertake a solo, nonstop sail around the world. It is The Long Way, published in 1974 by Bernard Moitessier about his own solo sail around the world.
"I felt like every time I went back and reread pieces of it on the trip—reading about him rounding New Zealand while I was doing it, and having sailed through nasty weather, rereading about storms he was going through—every time I read it, it got more intense."
Other books that Eric read included A Tramp Abroad by Mark Twain, The Essential PG. Wodehouse, Candide by Voltaire, and Death in Holy Orders by P.D. James. He read sailing books, biographies, science fiction, and a category he described as "everything else."
When the weather made few demands on his time, he could read most of the day, curled up below in the cabin.
I used to spend hours in a 14-foot sailing dinghy on a one-mile-long pond where my family vacationed in New Hampshire when I was a boy. I would bring a book with me and sail while glancing at the sky until the tops of trees appeared in my view, which meant it was time to tack away from shore.
It was easy for me to idealize the life that Eric Loss led for eight months aboard Odyssey.
That's one reason why I checked his location in Google Maps regularly during his voyage, using the coordinates he posted at noon each day in his blog. It was an eerie way to experience the vastness of the oceans he was sailing, because when I first pulled up the location there would be nothing but empty blue space on the screen. I would have to zoom out and out to reveal the nearest land, a thousand miles away in most cases.
Eric's mother, Katie Loss, emailed me a photo of Odyssey arriving in Los Angeles on July 22nd. It looked so small and fragile, but brilliantly white in the sunlight. What an adventure.
And what a memorable example of how this new digital reading technology makes it possible to read more than we ever could before, in more unusual places, without burdening our boat with weight better spent on cans of food.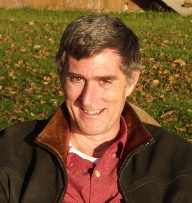 Kindle Nation Weekender columnist and contributing editor Len Edgerly blogs at The Kindle Chronicles where you can hear his interview with with Eric Loss in its entirety at 18:31 of this week's Kindle Chronicles Episode 210.