5.0 stars – 5 Reviews
(Regular price $7.39 — deal available for limited time only!)
Text-to-Speech: Enabled
And check out these deals on Books I and II in Julia Dumont's
Second Acts series!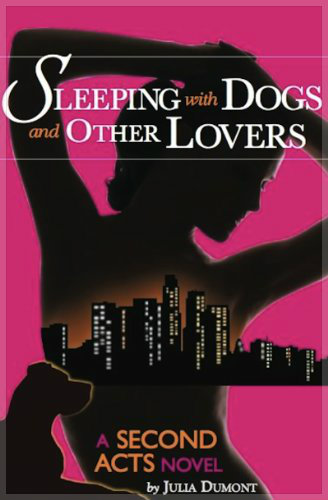 Just $2.99!
(Regular price: $7.39)

9 straight rave reviews!
 Just $2.99!
(Regular price. $7.39)
Here's the set-up:
Hearts Unleashed is Julia Dumont's third novel in the Second Acts contemporary romance series.
Cynthia Amas, matchmaking guru to everyone but herself, has just opened the new offices of her highly personalized boutique dating service in Hollywood, California. One of her new clients — a gorgeous, well-connected, uber-rich widow — comes in search of a new lease on life in the form of no less than a social and sexual reawakening. The story moves across the endlessly entertaining landscape of Los Angeles — from an astonishingly erotic art exhibit to a decidedly intoxicating voyage with a wildly attractive crew of love and lust seekers via a luxury yacht up the Southern California coast.
Colorful supporting characters in this sensuous and deliciously convoluted farce include Cynthia's best friend Lolita and her ever-mystifying pack of talented dogs; Paloma, Cynthia's beautiful young assistant; a passionate new import from Dublin named Seamus O'Brien; baddest-of-bad-boy ex-lovers Max; and superstar screen idol Jack Stone…all seemingly hell-bent on complicating the matters of the heart beyond belief. Meanwhile, Cynthia's lovably eccentric mother has run off to Italy with one of the biggest philanderers in Hollywood.
Throughout it all, Cynthia attempts to maintain a long distance affair with her own possible once-in-a-lifetime true love match, but as she encounters the sensual on-the-job temptations of a life in the romance business, it all seems to be slipping through her fingers.
5-star praise from Amazon readers:
Straight Up Sexy
"…This series never disappoints. Each of the books has a literally breathtaking sex scene early on, and before I can calm down, another one arrives. Most writers sound like they are using an old recipe of tired Harlequin clichés, but these always seem fresh and exciting. … it's even more exciting to me that Cynthia's in a relationship…"
Excited to go back to the beginning!
"I hadn't heard of Julia Dumont before, and I didn't even know this was the third book in a series until I started reading it. I would have stopped and read the first two, but honestly I couldn't put this one down…"
About The Author
The Not-So-Authorized Bio of Julia Dumont
Julia Dumont is not my real name. I have a secret life, which is why I have to keep my true identity hidden. My fellow university professors would never understand why a very serious literary professor such as myself would ever confess her addiction to reading romance novels, much less to her passion for writing them. And, because I find my heroine, Cynthia Amas, constantly talking in my head, and myself relating to her in ways I don't know how to explain, I can't stop myself from writing her crazy story. Maybe I am possessed, but I don't care!
I have spent more than 20 years worshipping my literary heroes — Jane Austen, D.H. Lawrence, Thomas Hardy, Emily Brontë, William Faulkner and F. Scott Fitzgerald to name only a few — but if I am going to be honest with you (at least to a point), I have to confess that one of my favorite guilty pleasures is to steal away and lose myself in the deliciously naughty novels of Nora Roberts, Danielle Steel, and Janet Evanovich. Their stories make me dream, fantasize, love, laugh and cry. And they always leave me wanting more, hungry for their next books. Somewhere along the way, I found myself wishing that I could write books like theirs that women would lust after.
Maybe it's a midlife crisis — I have just turned 43 — but Cynthia's story has really spiced up my life (and my husband Dilbert's). Much to my surprise, Dilbert (not his real name either) has been so supportive that he doesn't even complain when I am burning the midnight oil writing the next chapter in Cynthia's rollercoaster of a life story.
Although we have no children, we do have three canine companions who we dote on: Popeye, our regal standard poodle who keeps us well-mannered, Lucy, our Aussie who is constantly guarding against intruders, and Milo, our half collie/half German shepherd mix who has the soul of a Zen master.