Ads on the New Kindles – Unsubscribing is Easy as 1-2-3 … and $15
We'll have our first detailed hands-on reviews of the Kindle Fire HD later this week, but we did want to share some basic information about the on-Kindle ads that have created a bit of controversy. Amazon had a bit of a hiccup about this at launch, but they've straightened things out reasonably well.
First, the new Kindle HD units that are supposed to arrive Friday are ad-supported. Revenue from ads is clearly part of the equation that allowed Amazon to price these units below $200.
Second, it's a snap to turn the ads off directly on your Manage Your Kindle page, and the cost of "unsubscribing" is $15, compared with $30 for previous ad-supported eInk Kindles.
Third, I hope you'll give yourself a couple of days to work with the ad-supported Kindle Fire HD, if you've got one on the way, before you pull the plug on the ads. They are totally unintrusive to the reading experience, and my experience with the ad-supported eInk Kindle (which we took to calling the Kindeal) has been that the ads paid for themselves in a very short time, as I explained in this July 2011 post:

But if you do want to pull the plug on the ads, like I say, it's a snap. Just go to your Manage Your Kindle page, locate and select Manage Your Devices, and find the Kindle in question, as here:


Then click on the link that says Edit next to the word Subscribed, and you'll see this dialogue box pop up: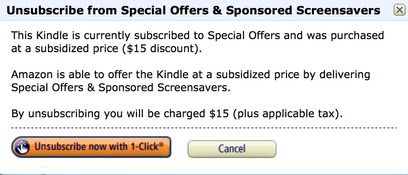 Make your selection, and you're done!


Links for the New Kindles
First, here's an important tip for everyone interested in getting one of the new Kindle Fire HD units into their hands as quickly as possible: While most of the new Kindle Fire HD models will be released in November, the brand new $199 16GB Kindle Fire HD 7″ model with Dolby audio, 2 antennas, and dual-band wi-fi will be released NEXT FRIDAY, Sept 14 – here's a link to get your order in right away http://bit.ly/FIRE-HD-SEPT14 (And by the way, this is the Kindle Fire that will be going to winners of our weekly Kindle Fire giveaway sweepstakes. We'll be announcing not one but two winners in the next few days.)
Important Links for New Kindle Accessories, Warranties, and More
Kindle Fire Accessories
Kindle E-reader Accessories
14,000+ Titles That Are Now Eligible for Amazon's Cool New WhisperSync for Voice Program