A
holy relic …
an innocent girl …
and a diabolical experiment.

International bestseller
The Surrogate
,

Book One of the intriguing Sudarium Trilogy, is a "mesmerizing" thriller with an ingenious plot  and "captivating characters."
Available for the first time for just 99 cents!
by Leonard Foglia, David Richards
4.6 stars – 17 Reviews
Or currently FREE for Amazon Prime Members Via the Kindle Lending Library
Text-to-Speech and Lending: Enabled
Here's the set-up:
In a remote corner of the Cathedral of Oviedo in Spain, Father Miguel Alvarez is in charge of taking care of the most holy relic of all Christendom: the sudarium, the towel-sized cloth which covered the face of Christ immediately following his death. At eighty years of age, he prays fervently before the relic. Suddenly, a pair of hands grips his head, forcing him to breathe a moistened cloth. Before losing consciousness, he sees a masked figure with a scalpel in his hand leaning over the holy bloodstained sudarium.
Seven years later, in Fall River, Massachusetts, Hannah Manning, a 19-year-old waitress, is waiting for a sign — something that will tell her what she is supposed to be doing with her life. One day, she answers an ad for surrogate mothers, and with that decision, the emptiness in Hannah's life subsides. But unfortunately for Hannah, the diabolical conspiracy that will completely change her life is just beginning.
Praise for The Surrogate:
Wonderful!
"I simply could not put this trilogy down…characters one winds up caring so deeply about…Thoughtful, exciting, and fun! What a great read!"
Holy moly, shockingly good!!!
"It is such a well-written mystery….If you are a Dan Brown or Steve Berry fan, this is just the book for you…a religious thriller that thrills without being preachy at all!!! Loved it!"
an excerpt from
The Surrogate
by Leonard Foglia & David Richards
1:1
(Seven years ago)
How fortunate he was!
The last 40 years of his priesthood had been spent in the cathedral, amidst the gold carvings, the soaring arches and the monumental stonework that with time had taken on the appearance of gray velvet. Such beauty never failed to move him.
            But it was on this day, every year, that Don Miguel Alvarez was reminded how truly blessed he was.
          This was the day the precious relic was taken out and displayed to the faithful. For only a minute, the archbishop held it high above the altar, so that the throngs who packed the nave, could see it with their own eyes, marvel at its provenance and revere it in all its holiness. Usually, during services, the 14th century edifice echoed with coughs and footsteps and the bustle of people kneeling down and getting back up. But for that one minute, every year, the stillness was all-enveloping.
           Thinking about it sent a shiver down his spine.
           Once the mass was ended, the archbishop would kiss the silver frame that held the relic, then give it to Don Miguel, who removed it to the safety of the sacristy. Watching over it in the sacristy, until the congregation had departed, was both a duty and an honor for the priest. But nothing like the honor that awaited him, once the congregation was gone, the thick oaken cathedral doors had been closed, and the lights that bathed the altar in molten yellow had been extinguished.
            For then, Don Miguel Alvarez took the relic back to its resting place in the Camara Santa, the holy chamber, "one of the holiest places in all of Christianity," he liked to inform visitors. Sometimes, pride got the better of him and he said "the holiest place."
           For 40 years now, he had made this journey with this most venerable of relics. He could have done it with his eyes closed, so well he knew the feel of the tile in the ambulatory under his feet. The earthen scent and cool air, coming from below, were enough to alert him he was before the wrought iron gates that protected the access to the Camara Santa.
          At his approach, an attendant, stationed outside the gates, unlocked the massive padlock, threw back the bolt and allowed Don Miguel to enter. A staircase rose up before him, turned left, then left again, before descending to the chamber that was his destination. Millions of pilgrims, not to mention kings and popes, had passed this way over the centuries just to behold the cupboard that contained what he now held in his hands.
         Don Miguel was nearing 80 and arthritis plagued his joints. But never here. Never when his hands touched the relic. A kind of rapture seized him and he had the impression of floating over the worn steps.
          He came to a second grille, through which were visible the various chests and cases that housed the cathedral's many treasures. The attendant unlocked this gate, too, then retreated up the stairs, so that the priest could perform his chores in privacy.
          As he had done so often in the past, Don Miguel placed the relic on the silver-plated chest before him and knelt to pray. Its ultimate place was in the gilded wardrobe against the wall. But the priest was reluctant to put it away so quickly. The moments he spent alone with this holiest of relics, contemplating its miraculous promise, were among the most sublime of his existence.
          In front of the cathedral, a warm wind swept across the broad, treeless plaza, and the last of the congregation headed home or to their favorite cafes, jabbering noisily, as they went. But the holy chamber, cool and peaceful, was beyond the reach of time and turbulence.
          Here Don Miguel was surrounded by all the symbols and icons of his faith. The  celebrated "Cross of the Angels," a magnificent gold cross – square in shape, studded with jewels and supported by two kneeling angels – was not only the symbol of the cathedral, but of  the whole region, where he had been born and lived his long life. The chest to the right of him contained bones of the disciples – the disciples' disciples, actually – in velvet bags. Six thorns, said to be from Christ's crown, were stored in the cupboard. So was a sole from one of St. Peter's sandals.
          But they paled to insignificance before the relic that had been entrusted to him. The relic of relics. What had he, a simple priest, never much of a scholar and now an old man, done to deserve such fortune?
         He closed his eyes.
         A gloved hand suddenly wrapped around his mouth.  He tried to turn and see who it was, but the hand gripped his face like a vice. He smelled leather, then another, sharper odor stung his nostrils. Even as he struggled for air, a second pair of hands reached past him for the relic.
          "No, no, lo toques," he cried out, as best he could. "Estás loco? Cómo se te ocurre que puedas tocarlo?"
          Touch the relic? Was this person mad?  The gloved hand muffled his cries. His body had little resistance to offer and the pungent odor was making his head spin. He could only watch in horror as the second intruder took a small scalpel from his jacket. Don Miguel  braced for the sear of pain that would mean the blade was being drawn across his neck. But instead, the person turned away, moved toward the silver chest and bent over to examine the relic more closely.
            The priest cursed himself inwardly.  He should have done his job and returned promptly to the cathedral. It was his selfish desire to be alone in the Camara Santa that had allowed this terrible sacrilege to happen. The Cross of the Angels seemed to be melting before his eyes, the jewels turning to red and green slime that oozed over the wings of the angels at the base. He realized that, deprived of oxygen, his vision was distorted and his mind was hallucinating.
           All he could think was how miserably he had failed. What God had given into his care, no man should look upon except with awe. But because of him, the relic was being defiled. His heart ached with shame.
          God would never forgive him.
1:2
Hannah Manning was waiting for a sign. Something that would tell her what she was supposed to be doing with her life, guide her somehow. She had been waiting for months now.
She gazed at the gold star on the top of the Christmas tree and thought of the Wise Men who had followed it a long time ago. She wasn't foolish enough to believe her sign would be anything so grand or her destiny so momentous. Who was she? Just a waitress. For the time being, though, not forever. Only until she got her sign. And it didn't even have to be a sign, she was thinking now. Just a nudge or a push would be sufficient. Like the wise men, she'd know instinctively what it meant.
         She had drifted long enough.
        "Do you believe it? Seven lousy dollars, twenty-three cents and a Canadian dime." In a booth at the rear of the diner, Teri Zito was tallying her tips for the night. "Everybody's back to their usual chintzy selves."
        "I didn't do very well, either," said Hannah.
         "Ah, what do you expect in this cheapskate burg?" Teri tucked the money into the right pocket of the frilly brown-and-white checked apron that the waitresses at the Blue Dawn Diner wore as part of their uniform. "The holidays are the only time it occurs to anybody around here to leave a decent tip. And these seven lousy dollars and 23 cents are telling me that the holidays are officially over."
           Standing on a wooden stool, Hannah was carefully removing the ornaments from the diner's spindly Christmas tree, which was looking even spindlier without lights and shiny baubles to fill in the holes. She reached up and with a jerk tugged the gold star off the top branch. The fluorescent lights reflected off the metallic foil, spangling the ceiling.
           Two events had conspired to rouse Hannah out of her lethargy. In the fall, most of her high school friends had left Fall River for college or jobs in Providence and Boston. Her sense of being left behind had only grown more intense with each passing month. She realized that they'd actually been preparing for the future all through high school and she hadn't.
       Then in December, the anniversary of her parents' death had come around, which meant they'd been gone for seven years. Hannah was shocked to find that she couldn't see their faces any longer. Of course, she had images of them in her mind, but the images all came from photographs. None of her memories seemed to be first-hand. Snapshots of her mother laughing and her father cavorting in the back yard were what she remembered. She couldn't hear the sound of her mother's laughter any more or feel her father's touch when he swooped her off the ground and tossed her playfully into the air.
         She couldn't go on forever being the girl who lost her parents.  She was a grown-up, now.
         In fact, Hannah Manning had only recently turned nineteen and appeared several years younger.  She had a pretty face, still childlike in some ways with its turned-up nose and eyebrows that arched perfectly over pale blue eyes. People had to look closely to see the scar that bisected the left eyebrow, the consequence of a tumble off a bicycle at the age of nine. Her hair was long and wheat-colored and to Teri's enduring exasperation, naturally wavy.
          Hannah's height – five feet seven – and her willowy figure were also  matters of some envy for Teri, who had never quite recovered her fighting weight, as she put it, after giving birth to two sons. Teri was now a good twenty pounds heavier than the Jenny Craig ideal for one of her compact stature, but she consoled herself with the thought that she was also a good ten years older than Hannah, who probably wouldn't be so svelte at 29, either.
         If only the girl would slap a little make-up on that face, Teri mused,  she'd be a real knock-out. But Hannah didn't seem to have much interest in boyfriends. If one had ever shown up at the diner, Teri certainly hadn't seen him and she was pretty good about keeping an eye on the men.
    "Remember when Christmas actually meant something – besides money!" Hannah sighed, wrapping the star in tissue paper and putting it into a cardboard box for safe-keeping. "You couldn't go to sleep at night because you were afraid Santa was going to pass over your house. And  you'd wake up at 6 and there were all those packages under the tree and it would be snowing outside. People sang carols and had snowball fights and everything. It was wonderful."
    "That was just a commercial you saw on TV, honey" replied Teri, who checked her right pocket in the unlikely event she had overlooked an extra bill or two. "I don't think Christmas ever existed like that. Maybe in your fantasy childhood, but not in mine! Oh, I'm sorry, I didn't mean to—-"
         "It's okay."
           That had to stop, too, Hannah thought. Everyone treating her with kid gloves because she didn't have parents, minding what they said for fear of hurting her feelings.
         "I think that Christmas trees are wrong," she announced loudly,  as she stepped off the stool and contemplated the brittle, dried-out specimen, bereft of its construction paper chains and plastic angels. "We cut down a perfectly beautiful tree, just so we can drape it with garbage for a few weeks, and then we toss it out in the trash once we're done. It's such a waste."
          She wouldn't have admitted it to Teri, but she felt a kind of empathy for the sorry fir that had been chopped off at the roots and made to stand by the door of the Blue Dawn Diner, where it had been ignored by most of the customers, except for the occasional child who tried to yank off one of the ornaments and got slapped on the wrist for it. It seemed so pathetic, so lonely, that sometimes she felt she might cry.
            Holidays were always hard to get through, a big game of pretend she played with her uncle and aunt:  Pretending to care, when she didn't, pretending to be happy, when she wasn't; pretending to a closeness that wasn't there and never had been. All the make-believe did was leave her sadder and lonelier than before.
            That was still another thing that had to stop. If she ever intended to get on with her life, she would have to move out of her aunt and uncle's house.
          "Come on," Teri said. "I'm not going to let you stand there and feel sorry for a stupid tree. Let's give it a proper burial."
          She grabbed the fir by the stump, while Hannah took the other end and they maneuvered it clumsily toward the back door of the diner, leaving a shower of brown needles behind them.
          The door was locked.
          Teri shouted into the kitchen where Bobby, the chef and night manager, was profiting from the absence of customers to wolf down a hamburger. "I don't suppose you could spare a moment to unlock this door."
           Bobby deliberately took another bite of the hamburger.
          "Didn't you hear me, you lazy fuck?"
           He wiped the grease off his chin with a paper napkin.
          "Don't move too fast. You might have a stroke."
           "Oh yeah? Well, stroke this, Teri,"  he said, pushing his pelvis at her lewdly.
            Teri recoiled in mock horror. "Let me get out my tweezers first."
            The women tugged the tree out into an empty parking lot edged by drifts of dirty snow. The air was so cold it cut. Hannah could see her breath.
         "I don't know how you two can talk to each other like that every day," she said.
          "Hon, it's my reason for living – just knowing when I get up every day that I can come in here and tell that turd what I think of him. Don't need an aerobics class to get my blood pumping.  All it takes is the sight of that man's thinning hair, that double chin and the caterpillar crawling across his upper lip that he calls a mustache."
          Hannah laughed despite herself. Teri's vocabulary sometimes shocked her, but she admired the older woman's feistiness, probably because she had so little herself.  Nobody bossed Teri around.
          At the dumpster, they rested the fir on the ground for second, while they caught their breath.  "On three now," Teri instructed. "Ready? One, two, threeeeeeee…" The tree soared up into the air, caught the edge the dumpster and tumbled inside. Teri slapped her hands together vigorously to warm them. "It's colder than a witch's tittie out here."
         As they retraced their steps across the parking lot, Hannah glanced up at the neon sign that spelled out Blue Dawn Diner in letters of cobalt blue. Behind them, blinking rays, once yellow, now faded to a sickly gray, fanned out in a semi-circle in imitation of the rising sun. The sign seemed to be heralding dawn on a distant planet, and the blue neon made the snow look radio-active.
      Was that sign her sign, the rising sun and the blinking rays telling her a new day was coming, a world beyond this one, something other than long hours at the diner, surly customers in red-vinyl booths, lousy tips and Teri and Bobby squabbling like alley cats?
          She caught herself. No, it was just an aging neon sign, losing its paint,  that she had seen a thousand and one times.
          Teri stood shivering at the diner door.
       "Get yourself inside, hon. You'll catch a death of cold."
          Hannah slid into the corner of the back booth that was unofficially reserved for the staff and ceded to customers only on Sunday mornings, after church services, when the Blue Dawn Diner did its liveliest business. Teri usually had a crossword puzzle going and although she was not supposed to, sneaked a few puffs on a cigarette if nobody about, which accounted for the dirty ashtray. After a long shift, it was a cozy place to curl up. Hannah let her tired body relax and her mind empty out.
                       She took a look at the day's puzzle, saw that it was half completed, and contemplated giving it a try. Teri never objected to a little help. Then her eyes went to the flowing script, underneath.
Are you a unique and caring person?
        Curious, she angled the newspaper so that it better caught the light.
This could be the most fulfilling thing you ever do! 
Give the gift that comes directly from the heart.
       It looked like an advertisement for Valentine's Day, with hearts in each corner and in the center, a drawing of an angelic baby, gurgling with delight.  But Valentine's Day was a month and a half away. Hannah read on.
With your help a happy family can be created.
Become a surrogate mom.
For more information, call  Partners in Parenthood, Inc.  617-923-0546
         "Look at this," she said, as Teri placed two mugs of piping hot chocolate on the table and slid into the booth, opposite her.
          "What?"
          "In today's Globe. This ad."
           "Oh, yeah. They get paid a lot of money."
          "Who does?"
          "Those women. Surrogate mothers. I saw a thing about it on TV. It's a little strange if you ask me. If you're going to all the bother of carting a kid around in your belly for nine months, you ought to be able to keep the little bastard afterwards.  I can't imagine giving it away. It's kind of like being a baker. Or being the oven, actually. You bake the bread and somebody else takes it home."
           "How much do they get paid, do you think?"
          "I saw on Oprah some woman got $75,000. People are pretty desperate to have kids these days. Some of those rich people will pay a fortune.  Of course, if they knew what kids are really like, they wouldn't be so quick to shell out. Wait until they find out they'll never have a clean living room again."
          A voice came from the kitchen. "Enough gabbing, girls." The overhead lights went out.
         "Do you mind if I take your paper?"
         "All yours. I was never gonna get 26 down anyway."
         At the door, Hannah gave her friend a quick kiss on the cheek and darted across the lot to a battered Chevy Nova. Once she was inside, Bobby flicked off the Blue Dawn Diner sign. Clouds masked the moon, and without the neon lights, the place looked even more forlorn to her.
        She gave a honk of the horn, as she guided the Nova out onto the roadway. Teri honked back and Bobby, who was locking up the front door, managed a vague wave.
          The newspaper lay on the seat next to Hannah all the way home. Although the roads were freshly sanded and free of traffic, she drove prudently. Up ahead, a stoplight turned red and she pumped the breaks gingerly to keep the Nova from skidding.
      While waiting for the signal to change, she cast an eye at the newspaper. The print wasn't legible in the dark, but she remembered exactly what the advertisement said. As she pulled away from the intersection, she could almost hear a voice whispering, "This could be the most fulfilling thing you ever do."
1:3
           Standing guard at the gate, the attendant shifted lazily from one foot to the other. The cathedral wouldn't reopen until late afternoon, and his thoughts had already gravitated to the cold beer he'd get himself in a few minutes.
           Out of the corner of his eye, he thought he saw a flash of movement in the shadows on the northern side of the transept. But he was in no hurry to investigate. Over the years he'd learned that the light flickering through the stained-glass windows played tricks with his weary eyes. And he was long since accustomed to the murmurs and groans that emanated from stone and wood, when the church was empty. His wife said it was the saints talking and that the house of God was never empty, but personally the attendant figured the sounds were merely those of an old edifice getting older.
         Didn't his own bones crack now and again?
         Except that the noise he was now hearing was different. It was that of whispered words, the rush and tumble of supplication. Then he saw another flash of movement and moved away from the gate to get a better view. Indeed, a woman on her knees was praying in front of the Altar de la Inmaculada, one of the Baroque splendors of the cathedral that depicted a large-than-life Mary, surrounded by a golden sunburst that attested to her sanctity.
        The woman's eyes were locked on the delicately carved face, which gazed down with infinite understanding on the worshippers who sought her mercy. Enraptured, the woman was obviously oblivious to the fact that the cathedral had closed.
        It was not the first time this had happened, thought the attendant, nor would it be the last. The cathedral's multiple chapels made it easy to overlook some poor soul at closing time. He usually had to make the rounds twice, and would have done so today, had it not been his duty to accompany the priest to the Camara Santa.
         He approached the woman slowly, not wanting to startle her and hoping the sound of his feet on the stones would get her attention. As he got closer, he realized that she wasn't Spanish. The colorful straw bag at her side and her stylish leather jacket suggested she was a tourist, although tourists usually just took a few pictures and left. And this woman seemed to be praying with the intensity of some of the elderly peasant women in the parish.
         "Señora," he whispered.
        The woman's prayer gained in fervor. "…We are but your servants. Thy will shall be done…" The attendant recognized the language as English. He glanced back at the entrance of the Camara Santa. He didn't want the old priest to come down the steps and find the gate unguarded, but the woman was going to have to be escorted out of the church.
        He touched her lightly on the shoulder. "Señora, la catedral está cerrada."
       She turned and looked at him uncomprehendingly. He wasn't even sure she saw him. The pupils of her eyes appeared dilated, as if she were in trance.
        She shook her head slowly. "I'm sorry. What?"
       "La catedral está…"  He searched his mind for the right word.  "Closed, señora. The church is closed."
         The woman's face suddenly flushed crimson with embarrassment. "Closed? Oh, I didn't realize. I must have…lost track of the time….Perdón….Perdón, por favor."
         The attendant helped her to her feet, gathered up her straw bag and escorted her to the cathedral entrance. As they walked down the nave, she kept turning back, as if to get another look at the virgin.
        "This really is one of the holiest places on earth," she said, while the attendant unlocked the door. Her eyes had regained their luster and he felt her grip tighten on his arm. "It's what I've been feeling, so it must be true. I mean, they do say that this is holy ground, don't they?"
         Not knowing what she was saying, the attendant nodded vigorously in agreement, before locking the heavy door behind her.
        He glanced at his pocket watch. Was it his imagination or was Don Miguel praying longer than usual?  As quickly as possible, he made his way  to the Camara Santa, ready to explain the distraction that had taken him away from his post. Before he was halfway there, he spotted the priest, lying on his back. His legs were twisted to the side and his hands resembled rope knots on the stone floor. He seemed to have fallen asleep in mid-prayer.
         Panic seized the attendant. The relic? What had happened to the relic?
        He let out a sigh of relief.
        Nothing! There it lay on top of the silver chest, undisturbed. He picked it up carefully and locked it away in the cupboard at the back of the crypt. Only then, when he turned his attentions to Don Miguel, did he realize that the priest was dead.
         The attendant made the sign of the cross over the body that age had so shrunken. If his heart had to give out, how fitting, he thought, that it should give out here. The old priest had deeply loved this place.  His devotion had been without limits. And now he looked so peaceful.
           Surely he had gone to his just reward in Heaven.
           How fortunate he was!
1:4
         "Well, you've certainly turned into an early bird," Ruth Ritter muttered, as she shuffled into the kitchen. "This is the third morning this week you've been up before me. What's come over you?"
        Hannah looked up from the oil-cloth-covered table, where she was contemplating a soft-boiled egg on toast.  "Nothing. I haven't been sleeping well, that's all."
        "Not sick, are you?"
          Ruth threw her niece a side-long glance. She prided herself on her ability to read people. She may not have gone to college and there weren't any fancy books in the house, but she liked to think she had more than her share of "smarts." She noticed things and could smell a fib a mile away.  "Because that's the last thing we need around here – you coming down with something!" she said. "One sick person's enough Your uncle's ulcer is acting up again."
          Hannah's mother used to say that when they were growing up, Ruth was the pretty Nadler sister, the vivacious one with all the boyfriends. It was hard to believe now. Hannah couldn't picture her aunt as anything other than the stout, perpetually disgruntled housewife in a chenille robe, who right now was heading for the coffee maker and the jolt of caffeine that would get another disappointing day going.
         "You made the coffee already?" Ruth asked, surprised.
         "I was up."
          "You sure nothing's wrong with you?"
          Why was it always a crack like that, Hannah wondered. Never, "thank you," or "what a nice thing to do." In Ruth's world. Every deed came with an ulterior motive. People were either trying to get on her good side or they were trying to pull the wool over her eyes. Nobody just did things. They did things for a reason.
            Ruth lifted the coffee cup to her lips and took a slurp. "What time did you get home from the diner last night?"
          "Same as usual. About quarter past midnight."
           "And you're up at the crack of dawn?"  There was that sidelong look again. "Why don't you tell me what's going on?"
             "Nothing, Aunt Ruth! Honest!"
          All she'd done was call Partners in Parenthood a week ago. The lady who'd answered the phone said she'd mail out some explanatory literature right away, and without thinking, Hannah had given the Ritters' address. Later, she realized she should have had it sent to the diner, instead.
             "As long as you live under our roof and enjoy our hospitality," Ruth never failed to remind her, "There will be no secrets in this house."
             If the envelope from Partners in Parenthood had hearts and a baby on it, as the ad did, she'd have a lot of explaining to do. So every morning this week, Hannah had risen early to intercept the mail.  So far, though, no letter.
          Girls her age were supposed to think about boyfriends and getting married some day and starting families of their own. So why had the notion of carrying a baby for a childless couple appealed so much to her imagination? All Hannah could think was that her mother had something to do with it. Her mother had been a giver, who believed people had a duty to help others less fortunate. Whenever you got bogged down in your own problems, her mother had said, it meant it was time to think of somebody else. The lesson was engraved on Hannah's memory, although, sadly, she heard the sound of her mother's gentle voice less clearly than she used to.
         Ruth slid a plate of hot cinnamon buns out of the oven and scrutinized them carefully before selecting the one that risked disappointing her least. "I thought you were supposed to be working the breakfast shift all this week," she said.
         "I was, but business has fallen way off. After the holidays, everyone's staying home, I guess."
         "Don't let that Teri screw you out of all the good shifts."
          Ruth washed down the bun with the last of her coffee, then reached into the refrigerator for a carton of eggs.  "I hope that uncle of yours isn't going to sleep all morning. Tell him breakfast is on the table."
         Grateful for the opportunity to escape from the kitchen, Hannah called up the stairs, "Uncle Herb? Aunt Ruth says breakfast's ready."
         A grumble came back.
         "He's coming," she said, relaying the message to her aunt, then glanced out the living room window. Just as she expected, the mailman was making his way down the street. Bracing herself against the cold, she slipped out the front door and headed him off at the foot of the walkway.
          "Gonna save me a few steps, are you?" the mailman said cheerfully. He reached into his pouch and handed her a packet loosely bound with string.
           A quick check told Hannah it was the predictable assortment of bills, magazines and junk mail. Just as she reached the front stoop, she saw the envelope with Partners in Parenthood printed on the upper-left hand corner. She was about to put it in her pocket, when an angry voice rang out.
        "What are you doing now? Heating the whole neighborhood? Do you have any idea how much heating oil costs?" Herb Ritter, in his bathrobe and pajamas, stood in the open doorway, his thinning gray hair still sleep-tangled.
            "I'm sorry. I only stepped outside for a second."
          "I'll take that." Herb whipped the packet out of Hannah's hands and shuffled headed into kitchen, where he took his habitual place at the head of the breakfast table.
          Hannah placed a coffee cup before him and waited, while he examined the mail, which was doing nothing to improve his spirits. Her letter was on the bottom. Enough of it stuck out so that she could read the word "Partners" in the return address.  She reached over his shoulder and slid it from the pile.
          "Hey, what are doing?"
          "I believe that one's for me. My name's on it."
          "Who's writing to you?" Ruth asked.
           "Nobody."
           "The letter wrote itself?"
            "It's private, Aunt Ruth. Do you mind?"
             Ruth's indignant words echoed up the stairwell.  "How many times do I have to tell you, young lady? There will be no secrets in this house."
           Hannah closed the door to her bedroom, waited until she had caught her breath, then carefully sliced open the envelope with her finger.
1:5
         The priest had been dead for two days, when the attendant received orders from the archbishop's office.
        His Eminence and "several guests" intended to visit the Camera Santa that evening.  Once the church was closed, he was instructed to station himself at the entrance to the shrine, unlock the gates at the appropriate moment and stand guard for the duration of their stay.
         All the attendant could think was that it had something to do with the old priest's demise, except that the Oviedo police had already inspected the premises and found nothing amiss. Photographs had been taken of the priest's body, before it had been removed.  All the relics in the Camara Santa had been meticulously examined and accounted for, ruling out the possibility of theft.
          The attendant had told his story several times to the authorities. Not that there was much to tell. The priest had shown no signs of illness that day and had handled the steps with no apparent difficulty. He seemed to recall that they had exchanged pleasantries, but none of significance. Then, after waiting about 20 minutes – yes, he was pretty sure it was twenty minutes – the attendant had gone in search of the priest. And found him dead. And that was more or less it.
       The rustle of robes and the whisper of voices told him that the archbishop and his party were approaching. Of the three guests, the attendant recognized only the tallest – he was from Madrid, and an archbishop, as well, if  memory was not mistaken. But the other two gave off a similar air of importance. The hard set of their faces suggested the seriousness of their purpose.
           Special visits to the Camara Santa were usually scheduled weeks in advance and he was told beforehand who the guests would be, so extra security could be arranged, if necessary. This visit was clearly being made in secret.
         He inserted the large key and swung open the heavy gate, then scurried ahead of the four men, down the stairs, fumbling for the second set of keys which would open the grille to the Camara Santa itself. He felt the dampness of perspiration in the small of his back.
        "Déjanos," mumbled the archbishop, as he entered the holy sanctuary. "Leave us now." The only sign of urgency was the way one of the "guests" clasped and unclasped his hands, as if they were sticky with pitch. Did they all know, the attendant wondered, that they were standing on the very spot where the priest's body had fallen?
         The sounds of their discussion followed after him, but by the time he reached the main entrance, the words were indecipherable. But there was one word he thought he heard repeated several times: "falta….falta.…" Missing? What could be missing? Everything in the Camara Santa had been checked out and accounted for.
         The minutes ticked by so slowly that at one point he shook his pocket watch vigorously, thinking it had stopped.
         The attendant had seen no reason to report that he had left his post for several minutes to escort a lone woman out of the church. Now he wondered if  the lapse had been discovered. The longer he waited, the more uncertainty gnawed at his stomach.
           An hour and a half  had elapsed, when he heard his name being called and he hastened to lock the grille of the Camara Santa. The archbishop and his guests silently negotiated the steps,  their  features  sterner than before. At the entrance, the attendant pulled the massive gate shut and turned the key in the lock, only to discover when he was through, that  the archbishop was  standing behind him.
         "The keys," he ordered, extending his right hand.
         The attendant's heart went leaden. He was being stripped of his position. How would he support his family now? It was a selfish thought, he knew, given the circumstances, but there it was. He handed over both sets of keys.
         "No, just those to the Camara Santa," said the archbishop. "I am afraid it will be closed until further notice. We will inform the press that certain structural repairs are necessary at this time. You are authorized to tell tourists as much."
            Tucking the keys under his robe, the archbishop uttered a curt "Buenos noches," and followed after his guests.
        The attendant felt his knees go weak with relief.  His livelihood was secure, after all.  Of course, it  had been his duty to stand guard over the old priest, but it was also his responsibility  to protect the cathedral and its treasures from visitors, who lingered beyond the appointed hours. Anyway, he'd only slipped away for a moment.
         As long as he kept quiet, he realized, no one would need know anything about the woman. Like the old priest, he would take those final minutes with him to his grave.
1:6
        "Out of my greatest pain has come my greatest joy. Life has a way of constantly surprising us, doesn't it?"  Letitia Greene reached for a tissue and delicately blotted the corners of her eyes, which glistened with tears. "The day I took Ricky home from the hospital was the happiest day of my life. A life that had almost come apart at the seams. Hal and I – that's my husband – were on the brink of divorce. I didn't think we'd survive. I didn't think I'd survive."
         Hannah waited, while the woman behind the antique  rosewood desk took a moment to compose herself. She looked to be in her late-40s and, although she was expensively dressed, had a confidential manner that put Hannah at ease.
         "Can you imagine? After 15 years of believing I would never be a mother, this…this angel came into our lives. Her name is Isabel and she made us whole again. Yes, a perfect stranger! She wanted to help, but I don't think that even she was prepared for the rewards that would come from her actions.  She brought us together and made us into a family. I remember the day I took Ricky home from the hospital. That's him there by the way."
        A gold-framed photograph of a freckled-face, red-headed boy of seven sat prominently on her desk. She repositioned it so Hannah could see.
        "I thought I would explode from joy. It was almost too much to bear. And it only seemed to increase every day. I used to say to Hal, `What am I going to do with so much joy?' I'm sure he had no idea at the time what a profound effect his answer would have on me. But he turned to me—"
         Letitia Greene leaned forward, as if she didn't want anyone else to hear. The silver charm, hanging around her neck, swung forward, too, catching the light. It was expensive-looking. "Do you know what he said?" She let the silence gather dramatically.
        "No," Hannah replied.  "What?"
        "He said, `Spread it around. Spread the joy around, Letitia!' Well, it was like being struck by a thunderbolt." The words seemed to leap from the woman's mouth. "What was I going to do with all that joy? I was going to spread it around, of course. So four years later, here I am,  helping other childless couples come together with some very special people to create even more happiness."
        She gestured proudly to the photographs on the wall behind her desk, which hung on either side of  gilt-edged mirror. In them, a variety of smiling couples and adorable babies shared their contentment with the camera. Next to some of the photographs were framed letters, brimming with gratitude and attesting to the efficacy of Letitia Greene's mission.
          Hannah took them in respectfully. To think that she almost hadn't come here. The back streets of the city had been impossible to negotiate and by the time she'd located Revere St., a mere two blocks long, and parked the Nova, she was ten minutes late for her appointment. The offices of "Partners in Parenthood" were on the second floor of a 19th century brick edifice, and the stairway leading to it from the street was so dirty and dimly lit that Hannah had actually considered turning around and heading home.
       As soon as she had opened the door, however, her impression changed instantly. The office was bright and attractive, closer to a living room than an office. The floor was carpeted in beige. Two sofas, covered in a cheerful floral fabric, faced one another, with a low-slung coffee table between them. Objets d'art were positioned on the shelves of a bookcase, while an arrangement of silk flowers stood on a pedestal of its own. Mrs. Greene's rosewood desk and the gilt chair in front of it in which Hannah was presently sitting, seemed to be the only utilitarian pieces and they hardly qualified as office furniture
       "I named our group `Partners in Parenthood,' because that's how I see it." Letitia Greene was saying. "People reaching out to one another, sharing their respective hopes and abilities, coming together to create a life.  The thing to realize, Miss Manning, is that our surrogate mothers give life in many ways. The obvious one, of course, is the child. But you're also renewing the lives of the man and woman, who often feel broken and incomplete. You're giving them a future, too. You become their savior."
         Hannah could feel her emotions welling up, the more she listened to Letitia Greene. The woman's passion and her sense of purpose made her seem so alive. She thought of her aunt and uncle, shut off to one another, and the pointless bickering that filled their days. And she thought of the dreary customers in the diner, going from meal to work to meal, back and forth, endlessly. Even Teri, good-natured as she was, was so mired in a  dead-end job that her only relief seemed to be trading insults with Bobby.  They all led such small, limited lives.
         Then Hannah considered her own – the smallest, most limited life of all.  She was nothing like this vital woman, who seemed so full of energy and drive.
          "I'm so sorry to have gone on like that, but as you can tell, I love what I do." Letitia Greene gave an apologetic laugh. She put on her eyeglasses, and took a moment to review Hannah's application form. "I guess we should get back to work here. You don't have all afternoon to listen to me. As I indicated, every situation is different and every surrogate mother is special. We try to come up with the arrangement that  suits you best – the most appropriate client family for you, how much contact you want to have with them. Do you want them present at the birth? Would you like them to send you photographs of the child, as it grows up. That sort of thing. The details are all worked out to everyone's satisfaction beforehand. The fees –  well, I am sure you will find them generous."
        Letitia Greene turned the application form over and ran her eyes down the back. "You seem to have answered all our questions satisfactorily," she said, approvingly. "And we want to give you every opportunity to ask the questions you may have, now or later. You are aware, of course, that there would be certain medical tests. Nothing to worry about. Just to make sure that you are as healthy as you look."
       "Yes, of course. Whatever is necessary."
       "While you're here in the office, I'd like to ask you just a few personal questions, if I may. It may seem like an invasion of privacy, but we are talking about a very personal and intimate commitment. It's important that we all get to know one another as well as possible. I hope you understand."
         "Please. Ask me whatever you like."
          Letitia Greene settled back in her chair and the silver charm came to rest just above her sternum. "On the application, it says you are single."
          "Yes."
          "How does your boyfriend feel about this?"
          "I don't have a boyfriend."
           "What was you most recent relationship?"
           Hannah felt her face flush. "I've never…I go out now and then with friends…what I mean…there's never been anyone serious enough to call a relationship, I guess."
          "I see. Are you a lesbian?"
        "What? On, no. I like boys. I just haven't found anyone who, well…" She found herself tongue-tied. There was Eddie Ryan, who lived down the block and occasionally took her to the movies, and all through high school, she'd had crushes, although she'd never acted on any of them. Teri said the girl had to initiate the action sometimes, but Hannah could never bring herself make the first move.
          "Do you live with your parents still?"
          "No, I live with my aunt and uncle."
         "Oh?" Letitia Greene looked over the top of her glasses.
          "My parents are both dead. They died when I was twelve. A car accident."
           "I'm so sorry. That must have been very hard for you. It still must be very hard."
         "Yes" was all that Hannah managed to mumble.
          "Do you want to tell me about it?" It had been so long since anyone had asked her that question that Hannah was unexpectedly moved. Most people avoided the subject or simply assumed she had put the past behind her and gone on with her life. But Letitia Greene really seemed interested.
          "It was Christmas Eve," Hannah began tentatively. "We were coming back from my Aunt Ruth's house. That's where I live now. We used to spend every Christmas Eve together because they were…are…my only family. We lived in Duxbury then. I fell asleep in the back seat and the next thing I remember was being thrown onto the floor and my mother screaming. She was asking me if I was all right and telling me to remain still, that help was on the way. From her voice I could tell she was in a lot of pain. When I tried to move so I could see her, she shouted, `No, stay where you are. Don't look here."
        Hannah felt her throat constricting and paused to take a deep breath..
       "Take your time, dear," counseled Letitia Greene softly.
       "It's just that it was so terrible, lying there, waiting for the ambulance to come and not daring to move. I realized later that she didn't want me to see my father. He was killed instantly. We were hit by a GMC truck that had drifted over the dividing line onto our side of the road. It was snowing and the driver had fallen asleep and…"
        She was surprised how sharp the details still were in her mind. It was as if the accident had occurred seven days ago, not seven years. Ruth and Herb had never once talked about it with her, so she'd kept the awful memories to herself all this time. Now she had the strange impression she was telling the story for the very first time and to someone she barely knew. But that person cared.
        "The truck slammed into the driver's side of our car, which is why my father died so quickly. Crushed. They said he never felt a thing. Miraculously, nothing happened to me. But on the way to the hospital, my mother lapsed into a coma. She died from internal injuries a week later. `I'm sorry, baby' was the last thing I ever heard her say. `I'm so sorry.'"
         "Your parents must have loved you very much."
         "Yes, I think they did." Again the choking feeling in her throat.
          Hannah hadn't thought about love for such a long time. Love was something that belonged to that faraway time of her life before the accident happened and everything changed. She remembered  shuffling through the autumn leaves on the sidewalk, holding her mother's hand tightly, never wanting to let go, because they were so happy in the  sunlight.
        "You, two!" her father would say, pretending to be jealous. "There's just no separating you."
        Hannah became aware of the silence in the office and realized that she had allowed herself to get carried away on the flood of memories. Letitia Greene watched patiently, her head tilted slightly to one side, an understanding look on her face. This woman was not like all the others who squirmed at the slightest display of emotions. She welcomed it, her manner so accepting that Hannah felt no embarrassment whatsoever.
          Letitia Greene reached across the desk and extended her hand, which Hannah took. The simple contact produced another wave of unexpected emotion. For a while, the two women held hands and looked at one another in silence.
         They were not alone.
         On the other side of the gilt-edged mirror in a small room directly behind Letitia Greene's rosewood desk, two other people were watching, as well. Watching and listening, as Hannah spilled out her life story. Although the tinted glass allowed them to see and not be seen, they hadn't permitted themselves the slightest movement, nor had their eyes strayed from Hannah's face for a second. All that had changed was their breathing. Measured at first, it was shorter now, short and shallow with mounting excitement.
           "I hope that wasn't more detail than you wanted," Hannah  said.
            Letitia shook her head gently.  "You can't put any of that in an application. Thank you for sharing it with me."  She released Hannah's hand. "This is exactly what I mean when I say that `Partners in Parenthood' is about people getting to know one another. People who are going to take a very intimate journey together. Tell me, Hannah, why do you want to take this journey?"
          Hannah had thought about her answer for days.  She couldn't say she felt the newspaper ad was speaking directly to her. Understanding as she was, Mrs. Greene might find that a bit bizarre. She wanted to tell the woman that she had been looking for a sign for months, and just when everything had seemed the bleakest, the brochure had arrived in the mail. But there was so much more to it than that, really.
       "I've been working in a diner and, well,  I have the feeling that I'm wasting my life.  I can't do a lot, but when I saw the ad and read the brochure,  it seemed to me that maybe I could do this. Maybe I could give the sort of gift you've been talking about and make someone else happy. I guess…I just want to be of use."
         Letitia got up, came around the desk and gave Hannah a hug. "I hope you can be, too. Of course, nothing is certain until it is certain. All the information you've given me will have to be reviewed, and we may ask you to come back for an interview with a psychologist, just so you can be sure this is the right choice for you. And, of course, the medical tests I mentioned."
        She escorted Hannah across the room, her hand resting on the girl's shoulder,  and for an instant, Hannah flashed back to the walks she'd taken with her mother.
        "Oh, just one thing," Hannah said, as Letitia Greene opened the door for her. "The number on the application is the diner where I work. If you have to reach me, it would probably be better if you called me there."
         "I understand. Now you go home and think about some of the issues we've discussed today. This is nothing to be undertaken casually. I want it  to be the absolutely right decision for you. For all of us."
        After Hannah left the office, Letitia Greene waited until the footsteps in the stairway had grown faint, then locked the door from the inside and threw the dead bolt. She took a moment to collect herself and shake the tension out of her hands.
         At the far end of the office, a door cracked open and a middle-aged couple appeared. The bright colors of the woman's Guatamalan peasant dress and her heavy make-up suggested that she was the more outgoing of the two. With his salt-and-pepper hair and his rumpled corduroy jacket, the man could have been a professor at one the many colleges in the Boston area. No one spoke for a long time. .
        Finally, a smile broke across the man's face and he said what was on all of their minds.
           "I think we have found our girl."
            "I'm sure everybody will be pleased when they hear," Letitia added.
           "At long last," said the woman in the peasant skirt. "It can begin now."
… Continued…
Download the entire book now to continue reading on Kindle!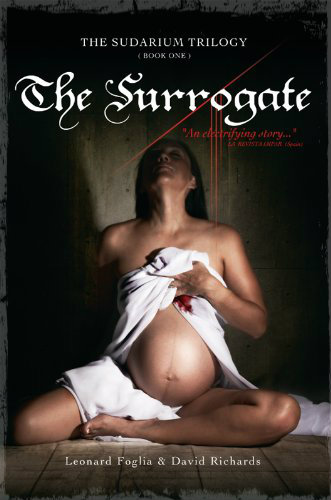 The Surrogate
(The Sudarium Trilogy – Book One)
by Leonard Foglia & David Richards
4.6 stars – 17 reviews
Special Kindle Price: 99 cents!